The Ar-Kaics - Live in the Shit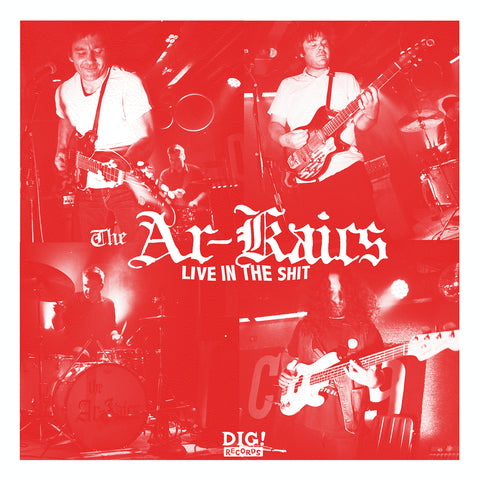 Self-released by The Ar-Kaics. "Coke Bottle" clear LPs available ONLY at the Daptone Shop.
DIG! The Ar-Kaics' latest offering, Live in the Shit—an unrelenting assault recorded live in 2020 in Richmond, Virginia during the waning days of normalcy. This set combines familiar tunes, old and new, along with their first live performance of the unreleased protest song, "Outsider".
Songs run together at a Ramones It's Alive pace—"Sick & Tired" into "You'll Be Mine" into "No Vacancy" and "Some People"—that propels the set towards a crescendo of damaged-psych oblivion via "Distemper", "Easy" and "Long Way Down". For all the out-of-tune guitars, fried vintage gear, and bum notes, the performance is tighter than 10 pounds of shit in a 5 pound bag—you can hear the 'Kaics bustin' out!
Live in the Shit is a comprehensive demonstration of both where The Ar-Kaics have been and where they're heading...just as soon as they can.
| | | |
| --- | --- | --- |
| Coke Bottle Clear LP | $ 20.00 | |
| | |
| --- | --- |
| Sorry, but your browser is out dated and can't play audio. | Sick & Tired |
| Sorry, but your browser is out dated and can't play audio. | You'll Be Mine |
| Sorry, but your browser is out dated and can't play audio. | No Vacancy |
| Sorry, but your browser is out dated and can't play audio. | Some People |
| Sorry, but your browser is out dated and can't play audio. | Outsider |
| Sorry, but your browser is out dated and can't play audio. | Gone |
| Sorry, but your browser is out dated and can't play audio. | Distemper |
| Sorry, but your browser is out dated and can't play audio. | Easy |
| Sorry, but your browser is out dated and can't play audio. | Long Way Down |