The Frightnrs - Which Way / Which Dub (SOLD OUT)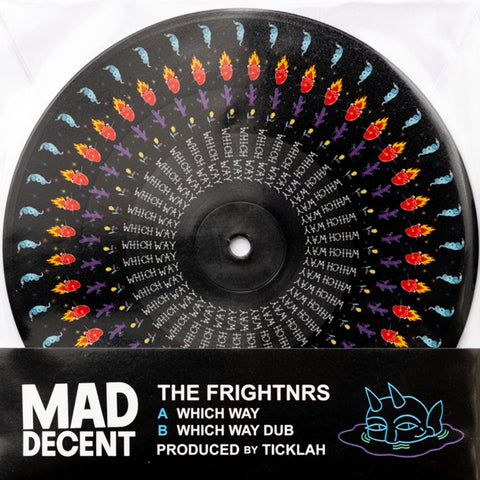 Following the recent release of their now-sold-out "Make Up Your Mind" zoetropic 7-inch, lauded Queens, NY roots/reggae revival outfit The Frightnrs today release the first-ever vinyl pressing of Inna Lovers Quarrel standout track "Which Way" backed with a new "Which Way (Dub)" version of the track, out now on limited edition zoetropic 7" vinyl picture disc via Mad Decent.
"After the release of our Inna Lover's Quarrel EP, the stand out tracks seemed to be 'Sharon' and 'Admiration,' but we always felt that some of the other killer tunes were overshadowed like 'Make Up Your Mind' and 'Which Way," The Frightnrs' Chuck Patel says.
"We are thrilled to see these get their due 45 releases and get some more light on these gems. It was fun for us to be able to revisit these tracks and create these new dubs behind our producer and general Ticklah (Victor Axelrod). It reminded us of the good times we had recording the EP and the first time we got to work with Ticklah on a full project from beginning to end and our partnership was truly cemented during that time."
To achieve the animated zoetropic effect and see the vinyl come to life, illuminate the spinning vinyl with a strobe light, or watch with a camera and a bright light.