The James Hunter Six "Something's Calling" / "Talkin' Bout My Love"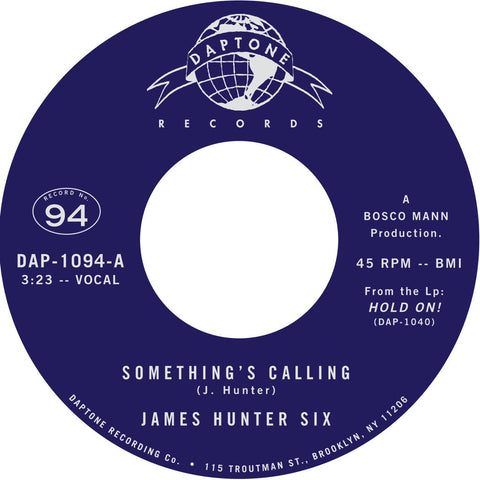 LIMITED translucent blue colored vinyl available ONLY at the Daptone Shop.
Within the House of Soul, the Daptone Staff is affectionately referred to as "The Hate Crew," a name they have earned from their years of ruthless evisceration of anything which doesn't meet their impossibly idealistic expectations. Armed with rolling eyes and barbs of sarcasm, they are the true guardians of the Daptone Sound. The problem is, this new James Hunter single has turned them all into adorable little kittens. They spend all day mewing to the ballads and scampering about to the uptempo cuts instead of selling records. In an effort to save the company, label Boss Neal Sugarman declared a "Hunter Free Zone," but when he tried to pry the test pressing of Hunter's latest single from the office turntable and replace it with something a bit more hate-able, the needle slipped and dropped back into the grooves of "Something' s Calling," irreversibly morphing him too into a small playful kitten. Meow, James Hunter. Meow.