The Jay Vons - Want You Tomorrow / Did You See Her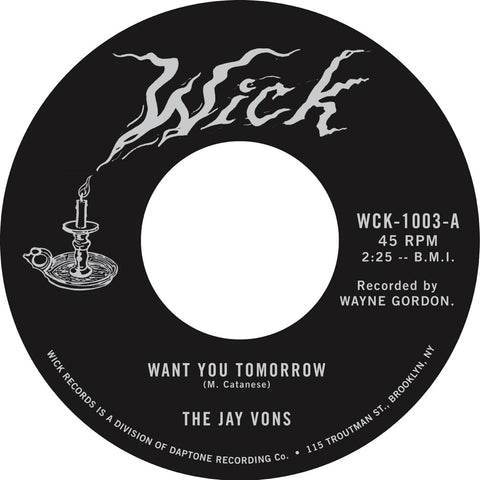 WICK Records is back with a precious platter from Brooklyn stalwarts, The Jay Vons. Much like the combos of yore, The Jay Vons have built a small empire of single-only releases spread across a variety of labels from exotic lands such as Canada, Spain, and New Jersey. Now they are ready to share their catchy brand of soulful pop with the home team.
Side one boasts a hook-laden mover dressed in a cloak of Clavinet (courtesy of the incomparable Dave Amels) reminiscent of the baroque-pop leanings of The Left Banke. The bouncy groove gives way to a cheerful shuffle with a singalong hook that lands somewhere between a crisp morning and a cool afternoon.
The flip highlights the more soulful side of The Jay Vons' repertoire, with a mid-tempo number seasoned with a reverb-heavy horn line performed by Billy and Freddy of The Extraordinaires. Written in a Canadian Tavern over an afternoon of delectable consumption, the Boys find themselves pondering Man's greatest quandary: Will love tear them apart? Tunes about coming up short have never felt so right!