The Sha La Das - "I Wish / Sha La Da La La"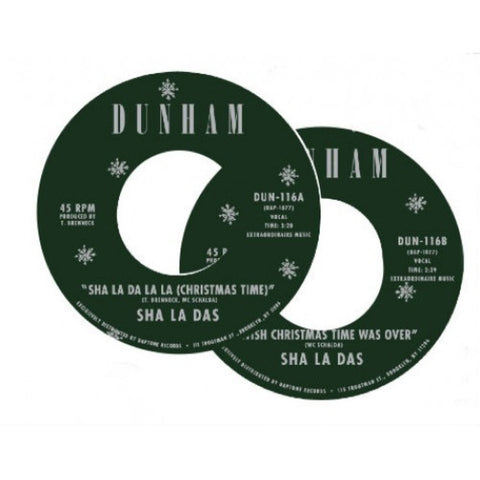 Fear not fellow Soul enthusiasts, for it is our distinct honor to present the perfect accoutrement to your Holiday quandaries, woes, and/or (for you well adjusted folks) delights. Introducing Staten Island's newest sensation: The Sha La Das!  Making their debut, they offer up two sides of unadulterated holiday cheer - Sha La Da La La (Christmas Time)' b/w 'I Wish Christmas Time Was Over.'  Discovered by Dunham Records mogul and one man musicial gang, Tom 'TNT' Brenneck, you may recognize their doo-wop tinged harmonies from such SMASH records as Charles Bradley's Victim Of Love. Ring a bell? Well I should hope so! And if that's not enough to make you wanna fill yer belly with Egg Nog and cover your house in lights, the Sha La Das are a legitimate family affair. Comprised of Patriarch Bill Schalda with sons, Paul, Will, and Carmine 
- this ain't no Patridge family people, this is the REAL DEAL. Side A, penned by Thomas Brenneck and Bill Sr. is a mid-tempo seasonal masterpiece, decorated to the nines with lush harmonies, gratuitous sleigh bells, and an insistent Yuletide groove, courtesy of the Menahan Street Band. Side B composed by Bill Sr. is a classic group harmony carol, sure to warm even the coldest of souls. Save yourself the trip to the Macy's window and get hip to the sonic Holiday realness of Daptone Records and the Sha La Das.