The Sugarman 3 - "Dirty Water / Bushwacked"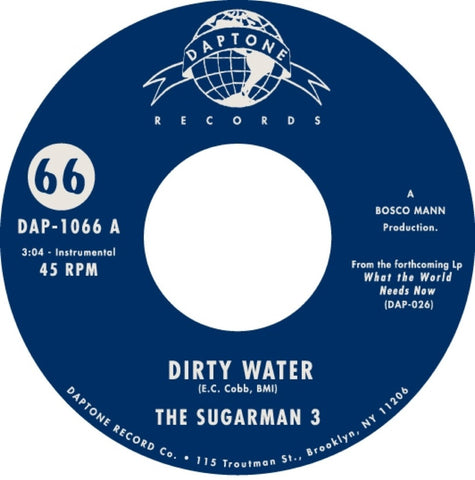 With The Sugarman 3's newest Long Player "What the World Needs Now is Love" reaching record levels, the frenzy is upon us. Given the hysteria for this release we understand that some collateral damage is to be expected: Fainting, Trampling,… You know the deal. But we at Daptone headquarters are doing our best to keep such inevitabilities to a minimum. So DIG this! A BRAND NEW single from the Sugarman 3! Equal parts greasy Soul and Instrumental brilliance; consider this single an appetizer to the musical feast that is "WTWNNIL".
On Side A you'll nd the Sugarman 3 (accompanied by members of Sharon Jones and the Dap-Kings) taking a crack at the Standell's GARAGE CLASSIC "Dirty Water". Put on your ankle boots and button up your shirt, 'cause this one's sure to fill every dance oor from Bean Town to Brussels. Now that you're primed and feeling loose, flip the record over and dig the NON-LP SMASH "Bushwacked". Bushwacked is a bluesy instro that will have the neighbors banging on your door to TURN UP the volume! Believe it!