Sharon Jones & the Dap-Kings - "Got A Thing On My Mind Pt. 1 & 2"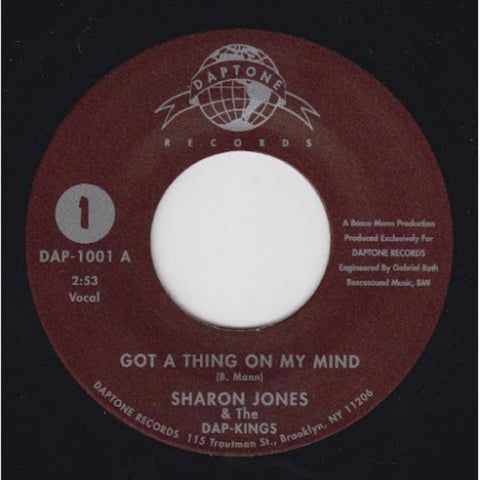 DAPTONE SUPER SOUL SCAVENGER HUNT CLUE #2:
Do you remember the Super Soul Crossword Puzzle? Find it on our site. The answer to #4 in the Super Soul Crossword Puzzle will give you a clue for the official video to search for on Youtube (Hint: it has something to do with 2018's RSD release). Find your next clue in the video description!
---------------------------
This is the one that started it all, folks. Daptone Records exploding onto the funk scene with this filthy motherfucker of a 45'! And who christened the debut release of this now world famous SOUL label? None other than that Super Soul Sister with the magnetic je ne sais quoi Sharon Jones backed by the undisputed heavyweight funk champions of the world the Dap-Kings! This is the kind of Soul Excitement that will make you wet your pants! 45 rounds per minute of non-stop dance-party mayhem! The A side gives you all the soul you can take with Jones' sweet and nasty voice hugging the curves of an addictive up-tempo groove, while the flip gives you a taste of Otis Youngblood's knack for Saxophone Soul Food as he spices up Part II (Instrumental) with his own interpretation of Sharon's sweet melody. "Got a Thing on My Mind" is your one way ticket for this Funky Soul Train. Destination: Soul Excitement!