Sharon Jones & the Dap-Kings - "He Said I Can / It Hurts To Be Alone"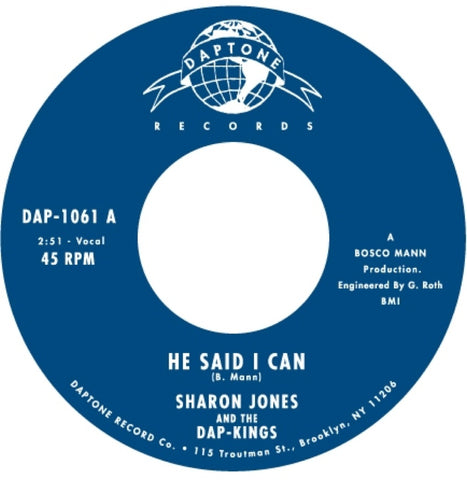 Just when you thought it was safe to get back into the Deep End of the Groove Pool, Daptone Records is here to unleash a Funky monster bound to scare all you kiddies back to the shallows. Equal parts HARD SOUL and razor sharp teeth, "He Said, I Can" by Sharon Jones and the Dap-Kings, has a sound so ferocious it can only be described, as one critic put it, "It's like if JAWS played bass in T-Neck era Isley Brothers." - Truer words have never been spoken.  Recorded during sessions that brought us the Soulfully Sophisticated Long Player, "I Learned the Hard Way" – This track has been the go to party starter at many of SJDK's LIVE sets over the past year.
And for all you SOUL enthusiasts lacking that urge to get down aquatically, cool down poolside and dig the flipside.  "It Hurts To Be Alone", originally recorded by the Wailers back in 1964, this track oozes relaxation and emotion.  Sharon's vocals feels so natural on this you'd swear this track was her very own.