Saun & Starr "Look Closer" / "Blah Blah Blah"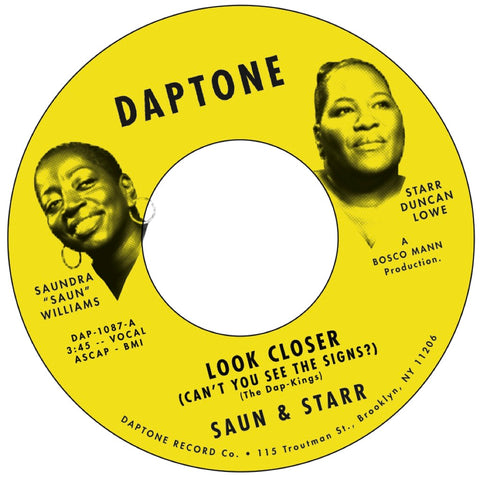 100 copies with blue colored vinyl available while supplies last! SOLD OUT!
Fresh off the success of their record-breaking debut single "Hot Shot" b/w "Gonna Make Time," Saun & Starr are back with 2 sides, equal parts complexity and subtlety - "Look Closer" b/w "Blah, Blah, Blah, Blah, Blah, Blah, Blah" (That's right! 7 Blahs!). "Look Closer," the eponymous track to their forthcoming and highly anticipated debut album, is a dark mover that creeps into your bones via the aural highway, and sticks there 'til you can't do anything but shake it loose on the dance floor. The flip "Blah Blah..." is a breezy, sun-filled day of cocktails and good friends, pressed into 7" of waxen joy. Think Island Soul alla Jackie Edwards. With musical accompaniment by The Dap-Kings!