Sharon Jones & the Dap-Kings - Matter of Time / When I Saw Your Face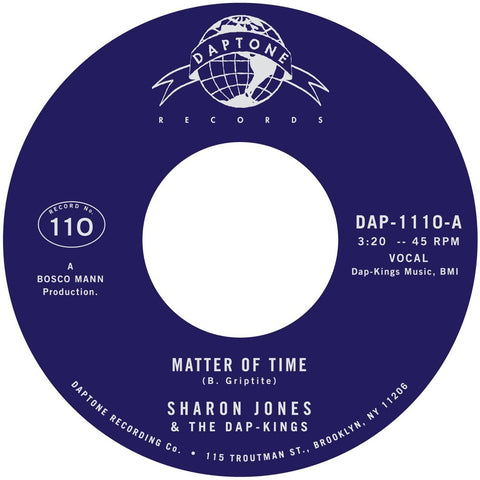 Bang. The 45 debut of Sharon Jones' final studio sessions. "Matter of Time" is an electrifying exhibition of the baddest band in the land at the pinnacle of their powers. Sharon, the siren riding high atop a fire-breathing dragon. The sound of soulful abandon that whipped crowds into frenzies from Paris, Texas to Paris, France is in full force here. On the flip, "When I Saw Your Face" showcases the wide open dynamic range of a band that is clearly as comfortable in the disciplined craft of the studio as they are on the battlefield of the stage. Sharon catches a deep mood both sweet and vulnerable, painting a masterpiece of romance to hang in the heart of a tender lover – violins painting gold upon the frame of the precious canvas.
Limited translucent blue copies available only from the Daptone Shop - 1 per person.