The Impressions - "Rhythm! / Star Bright"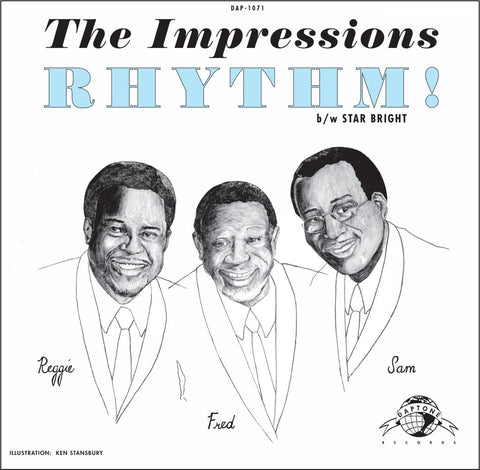 What do you get when you cross the legendary group harmony of the Impressions, with the savvy production stylings of Daptone's very own master of ceremonies and guitar dynamo, Binky Griptite?  Easy, you get one of the finest collaborations that has ever been realized onto 7 inches of high quality vinyl. Ladies and gentlemen we present to the greater Daptone Universe, the first single by The Impressions in over 30 Years.  Featuring original members, Fred Cash, Sam Gooden, as well as Reggie Torrian, who has been singing with the group since the early '70s – this single is the sweet soulful beauty you'd expect from the Impressions. No cheesy synthetic instruments or tryin-to-stay-contemporary 'beats' here. This is real soul music played by a real band and how sweet it is!
 "Rhythm" the aptly titled A-Side, is a Curtis Mayfield penned tune that was a big hit for Major Lance in the Mid-Sixties. The Impressions revive this classic with their iconic sophisticated harmonies and a new horn arrangement by "The 4th Impression", Johnny Pate himself, that moves the song along at a laid back, yet dance friendly pace. This track is Soul of the highest order.
"Star Bright", written by Mr. Griptite is floaty mid-tempo mover, a prayer to love seasoned with a fluttering flute line that will have you longing for that romantic starlit night when the only thing between the one you love and you is, nothing.