The Mystery Lights - Thick Skin / In the Darkness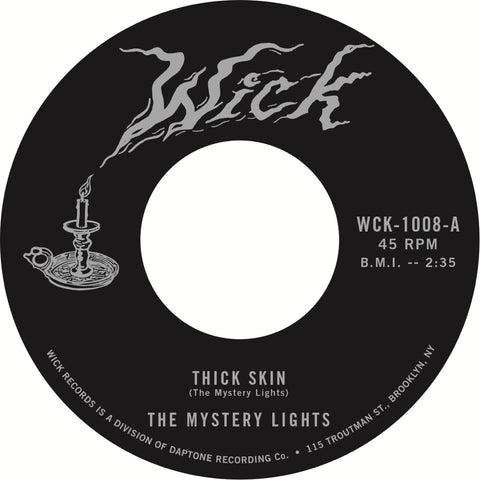 It is our distinct pleasure to announce the latest platter from Brooklyn's own The Mystery Lights. The a-side, Thick Skin, finds the boys moving away from a tradition '60s garage feel towards an angular, late '70s no-wave sound - but with a driving beat and verbal assault that brings groups like MC5 to mind. Coupled with scratchy/noisy bits that tip the cap to the more experimental side of The Velvet Underground, The Mystery Lights masterfully blend bluesy riffs, dorky farfisa, and tough rhythms to create a sound that's wholly their own. And the lyrics? Simple: Don't be a cry baby.
On the flip is In the Darkness which shows the more introspective, soulful side of The Mystery Lights. With guest vocals by Coley Gold, Mike laments about finding comfort in the darker side of life, while Coley reassures our protagonist that there is light in all things dark. But hey, sometimes it feels good to feel bad.
Ltd. Translucent Candy Apple Red color vinyl (1 per person) available while they last!