The Mighty Imperials - Thunder Chicken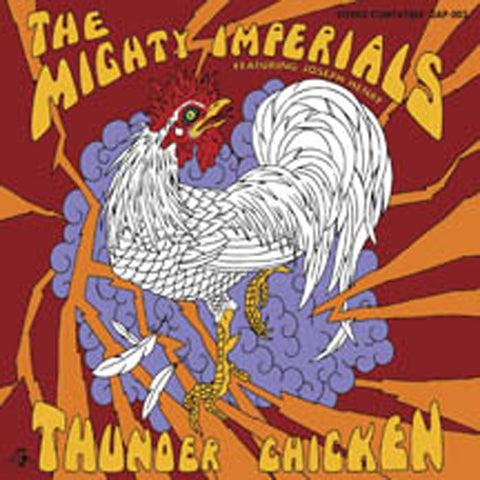 DAPTONE SUPER SOUL SCAVENGER HUNT:
YOU MADE IT! CLICK HERE
------------------------------------------------------
Originally released on DESCO records, Thunder Chicken this record was recorded when most of the memebrs weren't even old enough to vote. But don't let their age fool you, this is one album chock full of sophisticated Funk. Feturing guest vocals from the late great Joseph Henry, and members who went on to form, Sharon Jones and the Dap-Kings, Menahan Street Band, and El Michels affair, this album is some of the purest, rawest Funk ever laid to tape.
| | | |
| --- | --- | --- |
| CD - SOLD OUT | $ 12.99 | |
| LP - SOLD OUT | $ 14.99 | |
| WAV | $ 10.00 | |
| FLAC | $ 10.00 | |
| MP3/320 | $ 10.00 | |
| | | |
| --- | --- | --- |
| Sorry, but your browser is out dated and can't play audio. | Thunder Chicken | |
| Sorry, but your browser is out dated and can't play audio. | Never Found A Girl feat. Joseph Henry | |
| Sorry, but your browser is out dated and can't play audio. | Jody's Walk | |
| Sorry, but your browser is out dated and can't play audio. | Duck Hunt | |
| Sorry, but your browser is out dated and can't play audio. | Joseph's Popcorn feat. Joseph Henry | |
| Sorry, but your browser is out dated and can't play audio. | Chico's Barnyard | |
| Sorry, but your browser is out dated and can't play audio. | Kick The Blanket | |
| Sorry, but your browser is out dated and can't play audio. | Funky Belly feat. Joseph Henry | |
| Sorry, but your browser is out dated and can't play audio. | Ride Shank's Mare | |
| Sorry, but your browser is out dated and can't play audio. | Soul Buster Part I feat. Joseph Henry | |
| Sorry, but your browser is out dated and can't play audio. | Cold Sweat | |